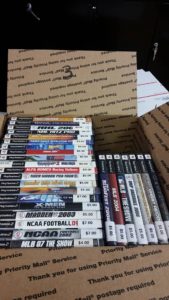 If you're a game store owner without a computerized inventory, there's lots of things you're missing out on. If you're a tech-savvy game store owner without a computerized inventory that you can tinker with, you're really doing yourself a disservice.
In the used game business, what you'll find is that you'll never get enough of the good games, while you'll have the crappy games coming out of your ears. In theory, with per-item variable trade valuation (I should write an entry on that), your payouts should be high enough on good games to attract them, and low enough on the crappy games to keep the volume at a trickle. In practice, I pay 56 cents for Allstar Baseball 2004 (Playstation 2) and still get ten copies a year in trade. A customer lugging a plastic tote full of PS2 games into the store usually doesn't care what he gets for most of them. He is only here because he saw the Facebook ad and thought he might get a few bucks. His backup plan if you don't take the games is throwing them in your dumpster if he's a nice guy, or dumping them in the parking lot if he's a jerk. His real concern is making sure that he gets his useful plastic tote back.
So your otherwise healthy game store will slowly grow a stable of undesireable games. Like a mold.
What to do? You can pull duplicate titles, but doing so blindly may hurt your stock of games that sell surprisingly well even if you're frequently left with many copies. My lackeys used to try to pull copies of Halo 2 for the Xbox and put them in the dump bin. No! Bad lackey!
What you want, then, is a way to look for games that you not only have too many of, but which also suck out loud when it comes to actually, you know, being sold. In SQL, it will look something like this:
select item_name, (quantity_in_stock – 1) from items
where item_category = "Playstation 2"
and quantity_in_stock > 1
and sell_price < 10
and (select coalesce (sum(qty), 0) from transactions where type = "Sale" and transactions.item_number = items.item_number and DATE >= NOW( ) – INTERVAL 365 DAY) = 0
We want the item name and the quantity in stock (minus one) for all games in the "Playstation 2" category where we have more than one copy, the price is under $10, and where the number of copies sold in the past year is 0.
After a few seconds of crunching, this gives us the following list of games:
Alfa Romeo Racing Italiano 2
Allstar Baseball 2004 2
American Chopper 1
American Chopper 2 Full Throttle 1
Ant Bully 3
Athens 2004 1
Bloodrayne 1
Bode Miller Alpine Skiing 1
Bombastic 1
Boogie Bundle 1
Buzz!: The Hollywood Quiz 1
Dance Dance Revolution Extreme 2 3
Dance Dance Revolution X 1
Dead or Alive 2 1
Downhill Domination 2
Escape from Monkey Island 1
ESPN Football 2004 1
ESPN Major League Baseball 2K5 1
Eve of Extinction 1
EyeToy Play 4
Fantastic 4 Rise of the Silver Surfer 1
Fantavision 1
Flow Urban Dance Uprising 1
Ford Racing Off Road 2
Full Spectrum Warrior 1
Full Spectrum Warrior Ten Hammers 1
Genji Dawn of the Samurai 1
Ghost Recon 2 2
Greg Hastings Tournament Paintball Maxed 3
Gretzky NHL 2005 1
Gungriffon Blaze 1
Hard Hitter Tennis 1
High School Musical 3 Senior Year Dance 1
Hot Shots Tennis 1
Hummer Badlands 1
Jet X20 1
Jimmy Neutron Attack of the Twonkies 1
Karaoke Revolution Presents: American Idol 1
Kengo Master Bushido 1
Lemony Snicket's A Series of Unfortunate Events 1
Let's Ride Silver Buckle Stables 1
Madagascar Escape 2 Africa 1
Madden 2001 1
Madden 2003 2
Madden 2004 2
Major League Baseball 2K6 1
Midway Arcade Treasures 1
MLB 07 The Show 1
MLB 10 The Show 1
MLB 2004 1
MLB Slugfest 2006 1
MVP Baseball 2004 3
MX vs ATV Untamed 1
NASCAR 08 1
NASCAR 2001 1
NCAA Football 09 3
NCAA Football 2002 3
NCAA Football 2007 1
NCAA March Madness 2005 1
NHL 2003 1
NHL Faceoff 2003 1
NHL Hitz Pro 1
NPPL Championship Paintball 2009 3
Over the Hedge 1
PBR Out of the Chute 1
Puzzle Challenge Crosswords and More 2
Real World Golf 1
Rock University Presents The Naked Brothers Band 1
RTX Red Rock 1
SBK: Superbike World Championship 1
Ski and Shoot 1
Ski-Doo Snow Racing 1
Spy Hunter 2 1
Star Trek Encounters 1
Summer Athletics The Ultimate Challenge 1
Summer Heat Beach Volleyball 1
The Incredible Hulk 1
Tiger Woods 2004 2
Tiger Woods 2005 1
Tokyo Xtreme Racer Drift 1
Tokyo Xtreme Racer Zero 1
Tony Hawk 3 1
Top Gear Daredevil 1
Top Gun Combat Zones 1
Unreal Tournament 3
Warriors of Might and Magic 1
World Championship Cards 1
World Series Of Poker 2008 1
XG3 Extreme G 3 1
XIII 1
X-Men: The Official Game 1
Legends of Wrestling II 1
Gah. What a load of hot garbage. This removes 120 PS2 games from our inventory. Each DVD case is half an inch wide, so we just cleared a bit over one full four-foot rack of games. If I wanted to clear more space, I could take away non-duplicated games that we haven't sold in two years. I plan to do this tomorrow to gut our much-hated PSP section.
It's tempting to spare some of the games on the chopping block. Dead or Alive 2? That's a good game! And yet, we have more than one copy and it hasn't sold for a year. We could be mislead by coincidence: Maybe it was out of stock for a year and then we received two in trade yesterday. If in doubt, consult an item history report for that game.
See? We have had at least one in stock since November 2014, with no takers. I'm not going to get rid of both, just my extra. That extra copy was bought from a customer for 99 cents, so it's no big loss.
Upside: If you report your inventory value to the IRS as something like 50% of retail value, and you're employing per-item variable trade valuation, you're about to come out way ahead by clearancing out this type of garbage inventory, which typically consists of items that you paid 10-20% of resale value on, as opposed to 30-70% for titles that you actually want. The retail value of these games is about $500, but my trade value on them is only about $70. If I sell them for what I've probably got in them, I win at tax time, to the tune of my marginal tax rate times about $180 of reduced inventory value.
Don't overdo this just for the fun of it. At least, don't cut as severely as I am cutting, here, unless you are hurting for space. By dumping my extra copy of Dead or Alive 2, I'm betting that no more than one person will come in looking for a copy before I get another in trade. I may lose that bet. That customer may find another game to buy, or he may decide that my store sucks and he's never coming back. I'm weighing the downside risk for that particular game against the half-inch that the case takes up on my shelf, and deciding that I want the half-inch.
You can cut too deep. I feel like the best thing to do is cut until your space squeeze is *almost* fixed, and then stop. The culling can get too fun, at least for an anti-hoarder like me. It's important not to cut off the entirety of the long tail. But when you're working with under a thousand square feet of retail space, the last little bits of inefficient, unwanted merchandise are the best place to start cutting. Technology can help you place the knife more efficiently.